OBrien Ski Skin Waterski Gloves
Product Specifications:
| | |
| --- | --- |
| COLOUR | Black Red |
| AVAILABLE SIZES | 3XS, 2XS, XS, S, M, L, XL, 2XL |
| GENDER | Unisex |
| MPN | 2082362/63/64/65/66/67/68 |
We're sorry we're out of stock, but we can let you know as soon as this product becomes available again.
Enter your details below and we'll email you once this item is back in stock.
OBrien Ski Skin Waterski Gloves Overview
Ideal for water ski and wakeboard use
Popular Waterski Glove that is also ideal for Wakeboard, PWC and other watersports in XXS size -Adults Gloves but great fr kids juniors and gilrs
These very popular O'Brien Waterski Gloves are a simpler design than the highest performance ski gloves which makes them very popular for a range of sports and uses.
The Ski skins are a bit lighter and more flexible in construction and design, but have loads of features which make them a very popular glove for our customers.
The neoprene back of hand detail makes them nice and warm, the full amara palm extends to the very end of the fingers and the reinforced double layer Amara palm detail gives these gloves extended life
Amara Palm (waterproof Leather material) is soft and comfy but wears really well and does not tend to ruck up under the fingers when using a handle or boom. This is more of a lighter weight feet glove then either the O Brien Sixam specialist ski glove to the Pro Ski which is also a high performance ski wake glove - this glove works really well as a multi sport glove for all water sport activities.
These gloves are also ideal for PWC, Jet Ski, Wakeboarding, Kitesurfing, Sailing and Windsurfing.( We even use these for winter mountain biking they are so versatile)
O'Brien Ski Skin Waterski Gloves Product Details:-
Full fingered design for complete protection
Amara panels for wear resistance - the Amara is a leather feel and look, but fine for use in the water without going slipery when wet.
Amara Palm soft and comfy so no wrinkles on the inside gives you great grip on the handle
Full wrap wrist strap with full wrap around - holds glove secure
Stretch Neoprene back hand detail for comfort and protection and warmth
OBrien Ski Skin Waterski Gloves Description
Amara palms is a synthetic leather that is very hard wearing and does not get slimy when wet. This is a great quality product that is constructed from high end materials and designed to provide many seasons of reliable service. These are perfect for use with your Jet ski / PWC. Designed specifically to fit perfectly and provide the ultimate in all day comfort. These Gloves are perfect for Water Skiing and kitesurfing.
Fully adjustable to fit a wide variety of hand shapes and sizes. Features Crosshatch Palm Stitching which is a very durable criss-cross style of palm stitching.
MORE REASONS TO BUY FROM ASI
As a Premier UK Retailer we are able to supply this product with a full UK Warranty from the Manufacturer
We guarantee that the price of this product is the best that you will find anywhere - if you can find it cheaper elsewhere then please give us a call
Action Sports International can ship this product to virtually anywhere in the World - just give us a call for more details and for a highly competitive shipping quote
Available for ULTRA FAST SHIPPING - if you order this product before lunchtime it can be at your door the NEXT WORKING DAY!
We offer fast and easy returns on this product so you can shop at Action Sports International with complete confidence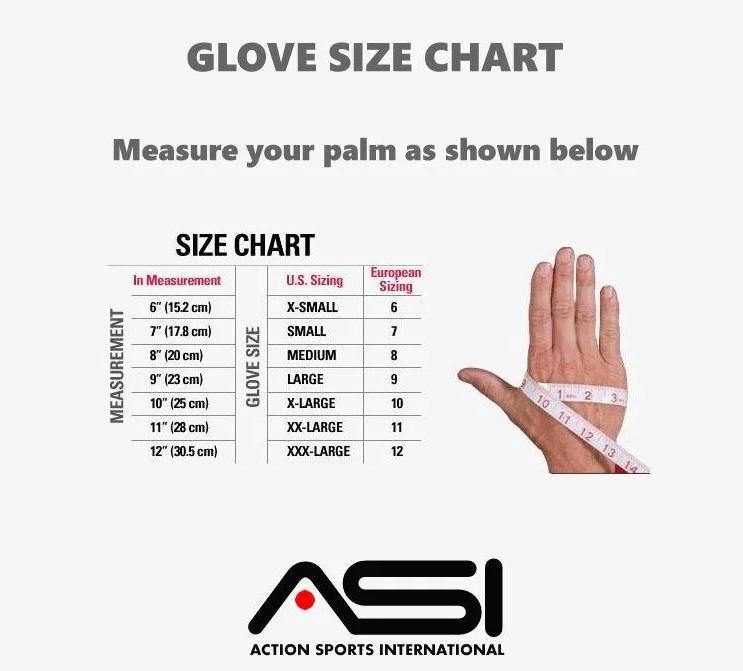 Sizes:
3XS = less than 2 1/2" | 6.35cm - European 4
2XS = 2 1/2" | 6.35cm - European 5
XS   = 2 3/4" | 6.99cm - European 6
S     = 3 1/8" | 7.94cm - European 7
M    = 3 1/2" | 8.89cm - European 8
L     = 3 3/4" | 9.53cm - European 9
XL   = 4 1/8" | 10.48cm - European 10
2XL = more than 4 1/8" | 10.48cm - European 11
TRU FIT SIZING GUIDE
It is normal for the neoprene and Amara materials to expand and stretch when wet and then contract when dry. Keeping this in mind, a Tru-Fit glove should fit 'mildly snug' in the palm, fingertips and in-between fingers in the store, understanding that they will expand some when in use. Optimally, look for a size that fits comfortably across the back of your hand and where the fingertips are at the end, but not maxed out. Different materials will fit differently, so it's best to try on a few different pairs to find the glove that fits your particular hand the best.
Place your hand on a flat surface and measure the widest part of the hand (not including thumb). - see diagram.  If your hand is between sizes, go up to the next full size.