OBrien Ski Skin Waterski Gloves
OBrien Ski Skin Waterski Gloves
Extra Discount Voucher Codes available- see HOME PAGE for details
View Product Information
---
Product Specifications:
| | |
| --- | --- |
| COLOUR | Black Red |
| AVAILABLE SIZES | 3XS, 2XS, XS, S, M, L, XL, 2XL |
| GENDER | Unisex |
| MPN | 2082362/63/64/65/66/67/68 |
We're sorry we're out of stock, but we can let you know as soon as this product becomes available again.
Enter your details below and we'll email you once this item is back in stock.
O'Brien Ski Skin Waterski Gloves Overview 
Ideal for water ski and wakeboard use 
Popular Waterski Glove that is also ideal for Wakeboard, PWC and other watersports in XXS size -Adults Gloves but great for kids juniors and girls 
These very popular O'Brien Waterski Gloves are a simpler design than the highest performance ski gloves which makes them very popular for a range of sports and uses.
The Ski skins are a bit lighter and more flexible in construction and design, but have loads of features which make them a very popular glove for our customers.
The neoprene back of hand detail makes them nice and warm, the full Amara palm extends to the very end of the fingers and the reinforced double layer Amara palm detail gives these gloves extended life
Amara Palm (waterproof Leather material) is soft and comfy but wears really well and does not tend to ruck up under the fingers when using a handle or boom. This is more of a lighter weight feet glove then either the O Brien Sixam specialist ski glove to the Pro Ski which is also a high performance ski wake glove - this glove works really well as a multi sport glove for all water sport activities.
These gloves are also ideal for PWC, Jet Ski, Wakeboarding, Kitesurfing, Sailing and Windsurfing.( We even use these for winter mountain biking they are so versatile)
O'Brien Ski Skin Waterski Gloves Product Details:-
Full fingered design for complete protection
Amara panels for wear resistance - the Amara is a leather feel and look, but fine for use in the water without going slipery when wet.
Amara Palm soft and comfy so no wrinkles on the inside gives you great grip on the handle
Full wrap wrist strap with full wrap around - holds glove secure
Stretch Neoprene back hand detail for comfort and protection and warmth
OBrien Ski Skin Waterski Gloves Description
Amara palms is a synthetic leather that is very hard wearing and does not get slimy when wet. This is a great quality product that is constructed from high end materials and designed to provide many seasons of reliable service. These are perfect for use with your Jet ski / PWC. Designed specifically to fit perfectly and provide the ultimate in all day comfort. These Gloves are perfect for Water Skiing and kitesurfing.
Fully adjustable to fit a wide variety of hand shapes and sizes. Features Crosshatch Palm Stitching which is a very durable criss-cross style of palm stitching.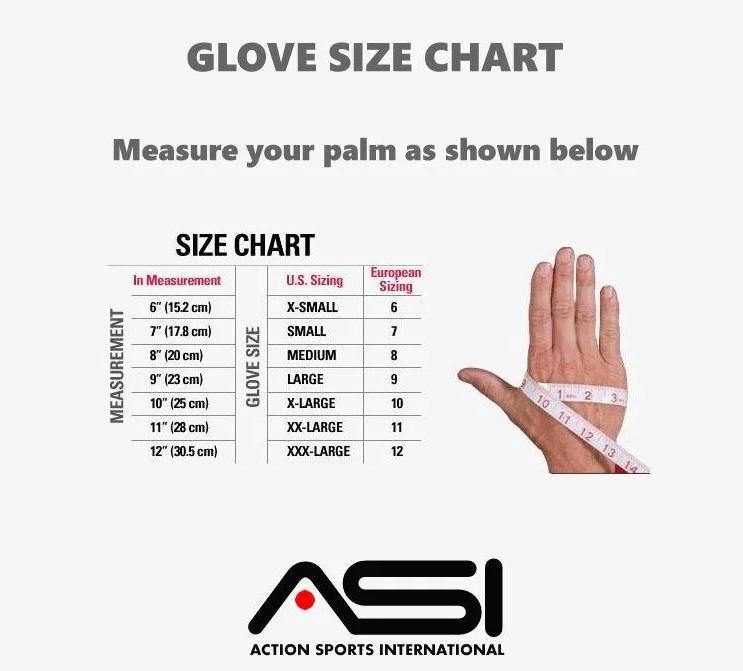 Sizes:
3XS = less than 2 1/2" | 6.35cm - European 4
2XS = 2 1/2" | 6.35cm - European 5
XS   = 2 3/4" | 6.99cm - European 6
S     = 3 1/8" | 7.94cm - European 7
M    = 3 1/2" | 8.89cm - European 8
L     = 3 3/4" | 9.53cm - European 9
XL   = 4 1/8" | 10.48cm - European 10
2XL = more than 4 1/8" | 10.48cm - European 11
TRU FIT SIZING GUIDE
It is normal for the neoprene and Amara materials to expand and stretch when wet and then contract when dry. Keeping this in mind, a Tru-Fit glove should fit 'mildly snug' in the palm, fingertips and in-between fingers in the store, understanding that they will expand some when in use. Optimally, look for a size that fits comfortably across the back of your hand and where the fingertips are at the end, but not maxed out. Different materials will fit differently, so it's best to try on a few different pairs to find the glove that fits your particular hand the best.
Place your hand on a flat surface and measure the widest part of the hand (not including thumb). - see diagram.  If your hand is between sizes, go up to the next full size.
Everything you need to know about our Shipping & Delivery Services
Your business is extremely important to us and if you're not happy then we're not happy. We are therefore fanatical about making sure that everything arrives with you in perfect condition and in good time.
Here is a summary of how we do things.
1) We aim to process and ship all orders on a daily basis if placed before 3pm Monday to Friday, Sadly we are not able to ship orders at weekends or Bank Holidays (we like to get out on the water sometimes too). If you place your order after 3pm then we will still endeavour to process and ship it on the same day but this may not always be possible until the following working day.
2) For goods stored in one of our satellite warehouses, transhipment may sometimes cause a slight delay. This is rare though and we'll always notify you straight away if this will potentially affect all or part of your order.
3) For goods on re-order from our suppliers but not physically back in stock yet the words "Coming Soon" or similar will be displayed. These goods are available for pre-order only over the phone by calling +44 (0)1597 850114. If you pre-order something we will let you know the arrival date that we have been quoted by our suppliers, but we're afraid that these dates do sometimes change but we'll always try and keep you fully in the loop. By pre-ordering goods you are basically securing them for when they arrive with us. Pre-orders are processed and shipped on a "first come first served" basis i.e. processed in strict chronological order (the first to pre-order will be the first to receive their goods).
4) For very urgent orders please contact us on +44 (0)1597 850114 and we can potentially upgrade your delivery option to suit your requirements.
Rates for shipping options:-
Royal Mail 1st Class    0.01kg to 2kg    £3.95
Royal Mail 2nd Class   0.01kg to 2kg    £3.29
Royal Mail Tracked 24 Up to 2kg    0.01kg to 2kg    £4.95
Royal Mail Tracked 48 Up to 2kg    0.01kg to 2kg    £3.95
Royal Mail SD - Guaranteed Next Working Day before 1pm Up to 2kg        £9.65
Royal Mail SD - Guaranteed Saturday Service - Up to 2kg                           £15.50
UK Mainland (3 to 5 days) RM Free shipping service on orders over £60 up to 2kg    £0.00     (3 to 5 working day service)
UK Mainland DHL > 2kg (extra surcharge of £7 added if parcel over 1.4mtr long)       £9.65     (Next working day service)
Sc Highlands/Islands DHL > 2kg (extra surcharge of £7 if parcel over 1.4mtr long)    £14.95   (2 to 3 working day service)
Scottish Highlands & Islands Royal Mail Tracked 48 Up to 2kg                                     £4.35     (2 to 3 day service)
N. I. DHL > 2kg (extra surcharge of £7 added if parcel over 1.4mtr long)    £14.95                     (2 to 3 working day service)
Northern Ireland Royal Mail Tracked 48 Up to 2kg                                         £4.35                       (2 to 3 day service)
Channel Islands Royal Mail Tracked 24 Up to 2kg                                         £4.95
Channel Islands Royal Mail Tracked 48 Up to 2kg                                         £3.90
Channel Islands Courier Delivery DHL Parcel - over 2kg                              £18.15                      (2 to 3 working day service)
Please note that VAT is not charged on consignments to the Channel Islands