Mystic Marshall Round Toe 5mm Wetsuit Boots
Product Specifications:
| | |
| --- | --- |
| COLOUR | Black |
| AVAILABLE SIZES | UK 3, US 4, EU 35-36 UK 4, US 5, EU 37 UK 5.5, US 6.5, EU 38-39 UK 6.5, US 7.5, EU 40 UK 7.5, US 8.5, EU 41-42 UK 8.5, US 9.5, EU 43 UK 9.5, US 10.5, EU 44-45 UK 11, US 12, EU 46 UK 12, US 13, EU 47-48 UK 13, US 14, EU 49 |
| GENDER | Unisex |
| MPN | 35414.200039.39 |
We're sorry we're out of stock, but we can let you know as soon as this product becomes available again.
Enter your details below and we'll email you once this item is back in stock.
Mystic Marshall 5mm Round Toe Wetsuit Boots 
Keep your feet toasty  
Mystic Marshall 5mm Round Wetsuit Boots are made of 100% M-Flex Neoprene. They feature sealed Glue and blind stitch seams with additional Liquid Seams. This 5mm neoprene boot should keep you warm all winter. 
The Mystic Marshall 5mm Wetsuit Boots are ideal for Surfing, Kite surfing, Windsurfing and many other performance watersports.
NB. These boots come up large so if you are in between sizes go to the smaller size.
Mystic Marshall 5mm Round Wetsuit Boots Features:-
Liquid seams (100%): all seams are fully sealed with an additional layer of liquid Seam for the ultimate longevity and performance.
GBS (Glued Blind Stitched) stitched on the inside layer so the threads do not go through and perforate the seam, waterproof seams
Hex-grip, sole style great grip and best performance
Velcro strap across the foot, holds the boot in place for a better riding experience
Heel loop, this makes it easy to get the boot on to your foot
Round-toe style all your toes are free to move
Mystic Marshall 5mm Neoprene Wetsuit shoe with Round toe design
The 3mm Marshall boot offers you a whole lot of features. Fox Fleece lining on the inside and Liquid seams (100%) on the outside. Pull them up easily with the heel loop and strap them up tightly with the Velcro strap on the instep. The 2-Layer hex-grip sole will give you all the grip you need.  Also available in Split-toe style
Materials
M-Flex (100%) best possible neoprene for performance
Fox Fleece, on the inside toasty warm for the coldest days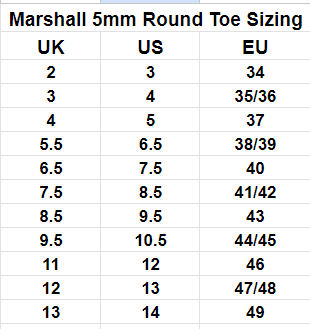 Everything you need to know about our Shipping & Delivery Services
Your business is extremely important to us and if you're not happy then we're not happy. We are therefore fanatical about making sure that everything arrives with you in perfect condition and in good time.
Here is a summary of how we do things.
1) We aim to process and ship all orders on a daily basis if placed before 3pm Monday to Friday, Sadly we are not able to ship orders at weekends or Bank Holidays (we like to get out on the water sometimes too). If you place your order after 3pm then we will still endeavour to process and ship it on the same day but this may not always be possible until the following working day.
2) For goods stored in one of our satellite warehouses, transhipment may sometimes cause a slight delay. This is rare though and we'll always notify you straight away if this will potentially affect all or part of your order.
3) For goods on re-order from our suppliers but not physically back in stock yet the words "Coming Soon" or similar will be displayed. These goods are available for pre-order only over the phone by calling +44 (0)1597 850114. If you pre-order something we will let you know the arrival date that we have been quoted by our suppliers, but we're afraid that these dates do sometimes change but we'll always try and keep you fully in the loop. By pre-ordering goods you are basically securing them for when they arrive with us. Pre-orders are processed and shipped on a "first come first served" basis i.e. processed in strict chronological order (the first to pre-order will be the first to receive their goods).
4) For very urgent orders please contact us on +44 (0)1597 850114 and we can potentially upgrade your delivery option to suit your requirements.
Rates for shipping options:-
Royal Mail 1st Class    0.01kg to 2kg    £3.95
Royal Mail 2nd Class   0.01kg to 2kg    £3.29
Royal Mail Tracked 24 Up to 2kg    0.01kg to 2kg    £4.95
Royal Mail Tracked 48 Up to 2kg    0.01kg to 2kg    £3.95
Royal Mail SD - Guaranteed Next Working Day before 1pm Up to 2kg        £9.65
Royal Mail SD - Guaranteed Saturday Service - Up to 2kg                           £15.50
UK Mainland (3 to 5 days) RM Free shipping service on orders over £60 up to 2kg    £0.00     (3 to 5 working day service)
UK Mainland DHL > 2kg (extra surcharge of £7 added if parcel over 1.4mtr long)       £9.65     (Next working day service)
Sc Highlands/Islands DHL > 2kg (extra surcharge of £7 if parcel over 1.4mtr long)    £14.95   (2 to 3 working day service)
Scottish Highlands & Islands Royal Mail Tracked 48 Up to 2kg                                     £4.35     (2 to 3 day service)
N. I. DHL > 2kg (extra surcharge of £7 added if parcel over 1.4mtr long)    £14.95                     (2 to 3 working day service)
Northern Ireland Royal Mail Tracked 48 Up to 2kg                                         £4.35                       (2 to 3 day service)
Channel Islands Royal Mail Tracked 24 Up to 2kg                                         £4.95
Channel Islands Royal Mail Tracked 48 Up to 2kg                                         £3.90
Channel Islands Courier Delivery DHL Parcel - over 2kg                              £18.15                      (2 to 3 working day service)
Please note that VAT is not charged on consignments to the Channel Islands