Jobe 4 Buckle Buoyancy Aid
Jobe 4 Buckle Buoyancy Aid
Product Specifications:
| | |
| --- | --- |
| AVAILABLE SIZES | XS, S, M, L, XL, 2XL, 3XL, 4XL |
| COLOUR | Lime Green, teal, Blue, Black, Red, Blue Black, Black White, Hot Pink |
| YEAR | 2023 |
| GENDER | Unisex |
| MPN | 244820001/2/3/4/5/6/7/8 |
We're sorry we're out of stock, but we can let you know as soon as this product becomes available again.
Enter your details below and we'll email you once this item is back in stock.
Buoyancy Aid with 4 adjustable buckles from Jobe 
A strong, lightweight 50N certified buoyancy aid that can fit all body types and can be used for all watersports.
The Jobe 4 Buckle Buoyancy Aid is made of strong Ripstop nylon, soft PVC-foam panels on the front and sides, and EPE-foam panels on the back for additional protection. The strong buckles and four adjustable webbing straps give an excellent unisex fit for more comfort and safety.
Jobe 4 Buckle Buoyancy Aid Product Details:-
50N ISO-certified buoyancy aid - recommended for use by competent swimmers near to land, or who have help close at hand
Soft PVC foam on front and sides, lightweight EPE foam on back for additional protection
Ripstop nylon fabric for a luxurious feeling
1.5in Adjustable webbing straps (4x) - to adjust the fit of your vest to your body for a perfect fit
Safety D-ring attachment to attach an emergency cord - necessary for PWC use
Strong YKK buckles - will not break when you most need them
Water drainage system - keeps the vest and you dryer
Unisex fit
JOBE 4 BUCKLE DESCRIPTION
Designed specifically to fit perfectly and provide the ultimate in all day comfort. Trusted YKK Buckle Technology for season after season of secure and trouble free operation. 4 x quick and easy snap-lock buckle closures with strong webbing straps to keep the vest snug against your body and prevent it from riding up. Fully ISO-certified (International Organization for Standardisation) to provide 50N of buoyancy as an aid to floatation (Newtons being the metric measurement that indicates buoyancy). The hard wearing and fast drying nylon outer skin provides excellent all day long protection and convenience.
A great choice for Towable Tube riding thanks to the high levels of comfortable and buoyancy plus excellent protection from even the fastest of tumbles. Makes use of construction techniques and materials that are specifically chosen for their high strength and excellent durability. The Unisex design means that this vest will be ideal for use by either male or female users. A perfect choice for every type and standard of Stand-Up-Paddleboarding on either rivers and lakes or open water sea SUP paddle-boarding.

Great design and fit for general Canoe or Kayak use from recreational paddling up to full white water conditions. Ideal for year-round use from Spring and Summer right through to Autumn and Winter. Fully adjustable to fit a wide variety of body shapes and sizes and enable you to optimise your comfort and safety. The special lightweight design provides optimal levels of relaxed all-day comfort to the point where you might forget you are even wearing it.

The materials used in this vest are designed specifically to minimise water absorption and to dry as quickly as possible during and after use. Perfect for a wide variety of different water sports disciplines and levels of ability. Great for general boating use on either powered craft or sailing vessels. Features larger arm holes for extra comfort and freedom of movement making this vest ideal for all types of water sports.
Features a built in safety Jet-ski PWC Kill-cord Ring so that you can attach your lanyard kill-cord to it when out on the water.
Jobe 4 Buckle Buoyancy Aid Sizes

XS - Chest 35-37.5in / 89-95cm, Waist 31.1-33.46in / 79-85cm
S - Chest 36.5-39in / 93-99cm, Waist 32.68-35in / 83-89cm
M - Chest 38-40.5in / 97-103cm, Waist 34.25-36.61in / 87-93cm
L - Chest 40-42in / 101-107cm, Waist 35.83-38.19in / 91-97cm
XL - Chest 41-44.5in / 105-113cm, Waist 37.4-40.55in / 95-103cm
2XL - Chest 44-47in / 111-119cm, Waist 39.76-42.91in / 101-109cm
3XL - Chest 46-49in / 117-125cm, Waist 42.13-45.28in / 107-115cm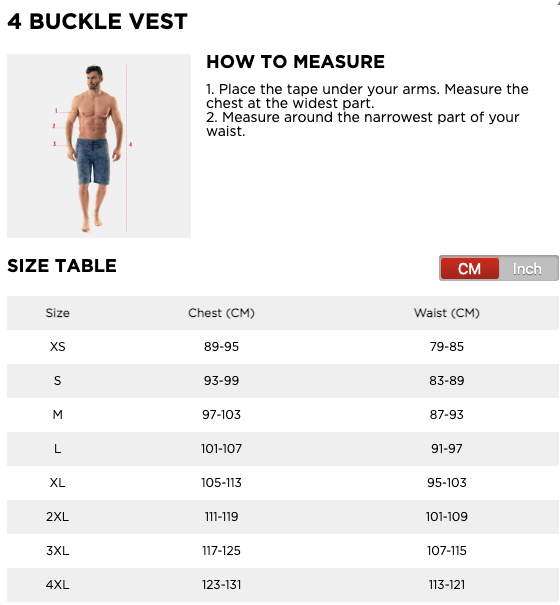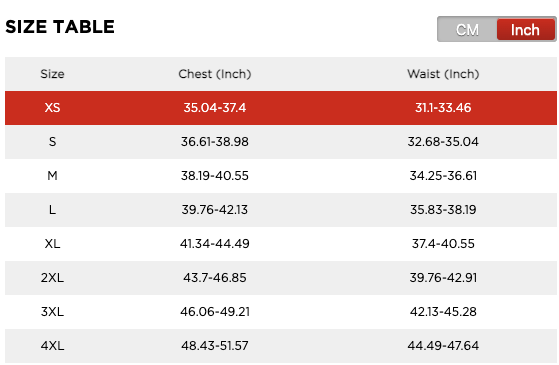 Advice on Buying a Buoyancy Aid / Impact Vest or Life Jacket
Buoyancy Aids, or Personal Flotation Devices (PFD's) as they are often referred to, have come a long way in recent years and they are now light and comfortable to wear, attractive to look at, and do not restrict your movement in the way that many older models used to:-  Click Here To Read More 
Everything you need to know about our Shipping & Delivery Services
Your business is extremely important to us and if you're not happy then we're not happy. We are therefore fanatical about making sure that everything arrives with you in perfect condition and in good time.
Here is a summary of how we do things.
1) We aim to process and ship all orders on a daily basis if placed before 3pm Monday to Friday, Sadly we are not able to ship orders at weekends or Bank Holidays (we like to get out on the water sometimes too). If you place your order after 3pm then we will still endeavour to process and ship it on the same day but this may not always be possible until the following working day.
2) For goods stored in one of our satellite warehouses, transhipment may sometimes cause a slight delay. This is rare though and we'll always notify you straight away if this will potentially affect all or part of your order.
3) For goods on re-order from our suppliers but not physically back in stock yet the words "Coming Soon" or similar will be displayed. These goods are available for pre-order only over the phone by calling +44 (0)1597 850114. If you pre-order something we will let you know the arrival date that we have been quoted by our suppliers, but we're afraid that these dates do sometimes change but we'll always try and keep you fully in the loop. By pre-ordering goods you are basically securing them for when they arrive with us. Pre-orders are processed and shipped on a "first come first served" basis i.e. processed in strict chronological order (the first to pre-order will be the first to receive their goods).
4) For very urgent orders please contact us on +44 (0)1597 850114 and we can potentially upgrade your delivery option to suit your requirements.
Shipping options - Depending on the value and weight of your shopping basket at checkout, the various shipping rate choices that would apply to your delivery address will be displayed on the checkout page once you've entered your delivery postcode. You will then be able to select your preferred choice.
European and Non-European country rates will be displayed when the "deliver to" country destination is entered.
United Kingdom postcode options include:-
Channel Islands Courier Delivery DHL Parcel - over 2kg

Channel Islands Royal Mail Track 24 Up to 2kg

Channel Islands Royal Mail Track 48 Up to 2kg

Northern Ireland DHL Parcels service over 2kg up to 10kg

Northern Ireland DHL Parcels service parcels over 1.4 metres long

Northern Ireland Royal Mail Track 48 Up to 2kg

Royal Mail 1st Class

Royal Mail 2nd Class

Royal Mail SD - Guaranteed Next Working Day before 1pm - Up to 2kg

Royal Mail SD - Guaranteed Saturday Service - Up to 2kg

Royal Mail Track 24 Up to 2kg

Royal Mail Track 48 free shipping service on orders over £60 up to 2kg

Royal Mail Track 48 for orders less than £60 and up to 2kg

Scottish Highlands/Islands DHL parcels service over 2kg up to 10kg

Scottish Highlands/Islands DHL Parcels service parcels over 1.4 metres long

Scottish Highlands/Islands Royal Mail Track 48 Up to 2kg

UK Mainland DHL Parcels Next Working Day for items over 1.4 metres long

UK Mainland DHL Parcels Service Next Working Day 2kg to 5kg

UK Mainland DHL Parcels Service Next Working Day over 5kg to 20kg
Please note that VAT is not charged on consignments to the Channel Islands