Straight Line Big Bag Ballast Bags 350 540 twin set of 2 bags.
Straight Line Big Bag Ballast Bags 350 540 twin set of 2 bags.
Straight Line Big Bag Ballast Bags 350 540 twin set of 2 bags.
Use Xmas Voucher XMAS10 on orders over £60
View Product Information
---
Product Specifications:
We're sorry we're out of stock, but we can let you know as soon as this product becomes available again.
Enter your details below and we'll email you once this item is back in stock.
Straight Line Big Bag Ballast System 
Set of 2 bags ideal to load up your boat  
These are the most flexible, puncture-resistant ballast bags. The Sacs are made with a sandwiched, woven polyester core for maximum strength while still remaining flexible enough for storage. Each bag is reinforced both internally and externally with glued and taped seams, creating a nearly indestructible bag. 
Ideal for V-Drive compartment of your boat. or park them in the side lockers
The Max Flow Link Valve creates a clean and water tight seal that automatically opens and closes when the pump is used, eliminating unwanted water in the boat.
Straight Line Big Bag Ballast Sacks Twin FEATURES
One Max Flow Link Valve for clean filling/draining
Three 1" NPT standard pipe thread valves for easy custom installation
Colour coded graphics for ideal boat location.
Heavy duty 30 Gauge PVC
Strong, electronically welded seams
Weight label around valve for easy size identification
Size details
540 Twin Set: 50" L x 20" W x 20" H - 540 lbs x 2
350 Twin Set:  38" L x 17" W x 17" H - 350 lbs x 2
SUMO is the fastest filling ballast system in the industry! Equipping your boat with SUMO means less time filling and more time riding your massive wake! All of our SUMO ballast is easy to use, durable and convenient. Sumo ballast is designed to work as a plug 'n play option with your factory ballast system or on deck with our high speed SUMO pumps. We offer an extensive selection of ballast bags to fit any boat or budget.
Size details
540 Twin Set: 50" L x 20" W x 20" H - 540 lbs x 2
350 Twin Set:  38" L x 17" W x 17" H - 350 lbs x 2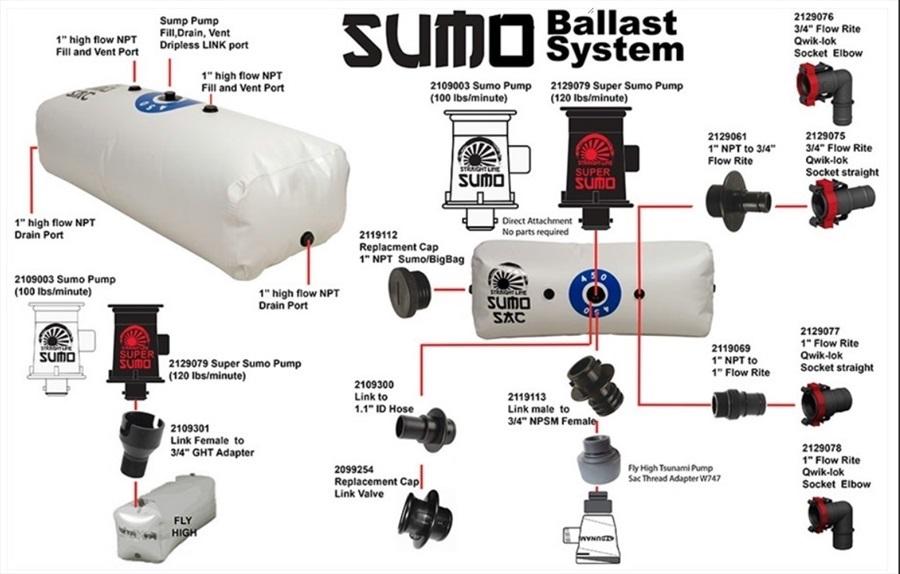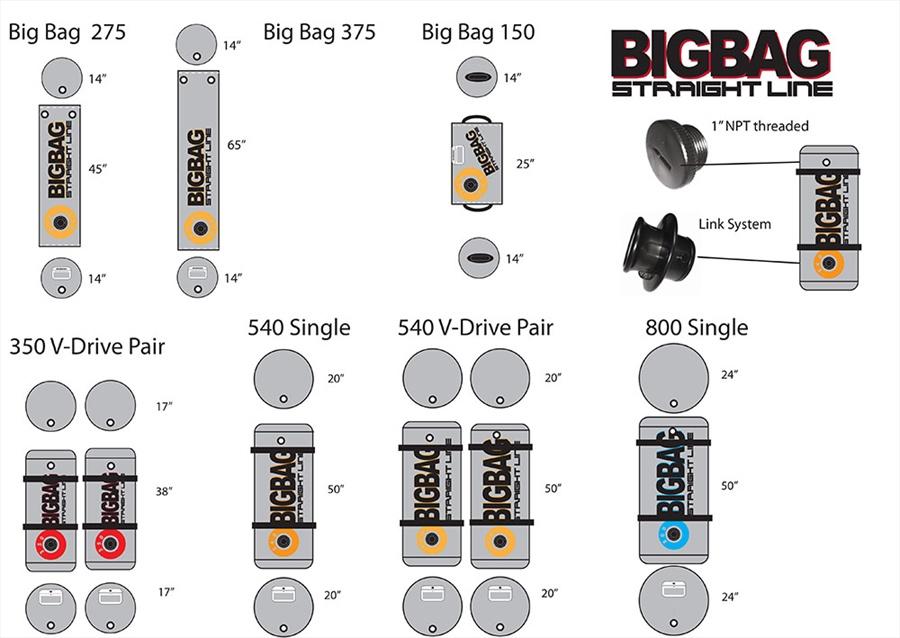 Everything you need to know about our Shipping & Delivery Services
Your business is extremely important to us and if you're not happy then we're not happy. We are therefore fanatical about making sure that everything arrives with you in perfect condition and in good time.
Here is a summary of how we do things.
1) We aim to process and ship all orders on a daily basis if placed before 3pm Monday to Friday, Sadly we are not able to ship orders at weekends or Bank Holidays (we like to get out on the water sometimes too). If you place your order after 3pm then we will still endeavour to process and ship it on the same day but this may not always be possible until the following working day.
2) For goods stored in one of our satellite warehouses, transhipment may sometimes cause a slight delay. This is rare though and we'll always notify you straight away if this will potentially affect all or part of your order.
3) For goods on re-order from our suppliers but not physically back in stock yet the words "Coming Soon" or similar will be displayed. These goods are available for pre-order only over the phone by calling +44 (0)1597 850114. If you pre-order something we will let you know the arrival date that we have been quoted by our suppliers, but we're afraid that these dates do sometimes change but we'll always try and keep you fully in the loop. By pre-ordering goods you are basically securing them for when they arrive with us. Pre-orders are processed and shipped on a "first come first served" basis i.e. processed in strict chronological order (the first to pre-order will be the first to receive their goods).
4) For very urgent orders please contact us on +44 (0)1597 850114 and we can potentially upgrade your delivery option to suit your requirements.
Shipping options - Depending on the value and weight of your shopping basket at checkout, the various shipping rate choices that would apply to your delivery address will be displayed on the checkout page once you've entered your delivery postcode. You will then be able to select your preferred choice.
European and Non-European country rates will be displayed when the "deliver to" country destination is entered.
United Kingdom postcode options include:-
Channel Islands Courier Delivery DHL Parcel - over 2kg

Channel Islands Royal Mail Track 24 Up to 2kg

Channel Islands Royal Mail Track 48 Up to 2kg

Northern Ireland DHL Parcels service over 2kg up to 10kg

Northern Ireland DHL Parcels service parcels over 1.4 metres long

Northern Ireland Royal Mail Track 48 Up to 2kg

Royal Mail 1st Class

Royal Mail 2nd Class

Royal Mail SD - Guaranteed Next Working Day before 1pm - Up to 2kg

Royal Mail SD - Guaranteed Saturday Service - Up to 2kg

Royal Mail Track 24 Up to 2kg

Royal Mail Track 48 free shipping service on orders over £60 up to 2kg

Royal Mail Track 48 for orders less than £60 and up to 2kg

Scottish Highlands/Islands DHL parcels service over 2kg up to 10kg

Scottish Highlands/Islands DHL Parcels service parcels over 1.4 metres long

Scottish Highlands/Islands Royal Mail Track 48 Up to 2kg

UK Mainland DHL Parcels Next Working Day for items over 1.4 metres long

UK Mainland DHL Parcels Service Next Working Day 2kg to 5kg

UK Mainland DHL Parcels Service Next Working Day over 5kg to 20kg
Please note that VAT is not charged on consignments to the Channel Islands