Follow Atlantis Women's Performace Wakeboard Impact Vest 2023
Follow Atlantis Women's Performace Wakeboard Impact Vest 2023
Follow Atlantis Women's Performace Wakeboard Impact Vest 2023
Use Xmas Voucher XMAS10 on orders over £60
View Product Information
---
Product Specifications:
| | |
| --- | --- |
| AVAILABLE SIZES | XS, S, M, L, |
| COLOUR | Black / White, Grey / Blue, Yellow Black, |
| YEAR | 2023/2024 |
| GENDER | Women's |
| MPN | F12301-CE |
We're sorry we're out of stock, but we can let you know as soon as this product becomes available again.
Enter your details below and we'll email you once this item is back in stock.
Follow Atlantis Wakeboard Impact Vest 
For the specific Women's shape 
A fit that provides comfort with a form fit combined with Performance materials for the best fitting ladies Impact vest in the Follow collection 
The Follow Atlantis Women's Wakeboard Impact Vest has a secure and comfortable tapered women's Fit. 
Completely constructed with seriously stretchy and soft neoprene. Complete stitch through segment panels for no foam movement. Dual layer neoprene construction. Featherweight foam is the softest and lightest we can find. YKK locker zipper with silicon dipped pull string.
Follow Atlantis Women's Wakeboard Impact Vest Product Details
Ladies Fit - Follow has worked closely with its team of female wakeboarders to get our Ladies Fit right. Secure but comfortable across the chest and tapered at the waist for a custom ladies cut. Performance arm hole sizing to reduce jacket lift in the water with a Women's specific waist taper for a fit that provides comfort with a form fit.
Dual-Layer Neoprene - Wet neoprene greatly increases in size by roughly 10%, depending on thickness and materials. We use both external and internal neoprene layers to minimize this effect. Dual-Layer Neoprene keeps the vest fitting as intended and helps to reduce chest expansion in the water.
Stretchy Neoprene - Our regular stretch neoprene taken to the next level. This stuff is seriously soft, seriously stretchy and really comfortable. Feels like you're wearing nothing at all, without compromising durability.
Featherweight Foam - There are two ways to keep a life jacket as light as possible. Reduce water absorption and use the lightest materials. Our featherweight foam is the best of both worlds, no kidding, feel for yourself.
Reduced Individual Segments - Follow works closely with our factory to minimize the foam pocket sizing and use a direct stitch-through process to manage areas that are prone to movement. This keeps all our foam in place for years to come.
The Lowdown
Rider Profile: Intermediate- Advanced
Fit Profile: Ladies Fit - Secure but comfortable across the chest and tapered at the waist for a custom ladies cut.
Size Guide: Good size fit based on chest size
Closure: Front Zip
Padding: Medium – super flexible
Follow Atlantis Women's Wakeboard Impact Vest Details
From a spring morning to the heat of summer, like the city of Atlantis itself, your legacy is secure with perhaps our most beautiful vest in the line. Stash your lip balm in the chest pocket and ride with style, function and fit. The Atlantis design starts with a cross-stitched panel overlay then goes further with premium neoprene and an articulated cut for total freedom. Lightweight with seriously soft and stretchy neoprene, the Atlantis is total riding bliss.
This product is designed and manufactured by one of the most successful and respected brands in the water sports industry so will make an excellent purchase. Perfect for a wide variety of different water sports disciplines and levels of ability. Features a Tapered Waist to properly contour to the female body for the ultimate in comfort and protection. Fully adjustable to fit a wide variety of body shapes and sizes and enable you to optimise your comfort and safety. The Ladies Fit has been developed by working closely with professional female wakeboarders to ensure a secure and comfortable fit across the chest and tapering at the waist. The special lightweight design provides optimal levels of relaxed all-day comfort to the point where you might forget you are even wearing it. The zipper flap secures your zip pull via a magnetic closure flap with internal magnets to attract and snap into place for easy placement and release. Ideal for use with a Jet Ski / Personal Water Craft. Designed for use in fresh water and salt water conditions (always rinse well after using in salt water). This is a great quality product that is constructed from high end materials and designed to provide many seasons of reliable service.
Perfect design and fit for Water Skiing whether recreational carving or more advanced course skiing. The strong front zipper will provide season after season of trouble free operation and makes this vest quicker and easier to get on and off. Designed with features that optimise the protection of your torso from impacts and abrasion which not only keeps you safe and protected but also builds confidence. Features a soft and comfortable Premium Neoprene Outer Skin for excellent stretch characteristics and all day long comfort. Designed specifically for optimal freedom of movement making this vest ideal for all types of water sports. The Silicon Dipped Pull String enables super positive opening and closing of the zipper even when wearing gloves. The Stitch Through Design ensures that the foam core and individual panels of the vest cannot move around inside the outer covering during use. The Featherweight PVC Foam provides excellent protection an light weight with minimal water absorption. Creates a comfortable but snug fit that moulds perfectly to the shape of your body (and stays put).
Features Dual Layer Neoprene to keep the vest fitting correctly during extended usage and reduce chest expansion in the water. Features larger arm holes for extra comfort and freedom of movement making this vest ideal for all types of water sports. A perfect choice for every type and standard of Wakeboarding either at the Cable Park or behind the boat. The thermal properties of this vest will add insulation and warmth in all conditions. The perfect anatomical design and materials provide a comfortable but snug fit that moulds perfectly to the shape of your body without leaving you feeling restricted. Makes use of construction techniques and materials that are specifically chosen for their high strength and excellent durability. Ideal for year-round use from Spring and Summer right through to Autumn and Winter. The Breathable Ventilation System keeps the flow of air moving and controls moisture build up to maximise your comfort and keep you at an optimal temperature. Designed specifically to fit perfectly and provide the ultimate in all day comfort.
Follow Atlantis SIZES: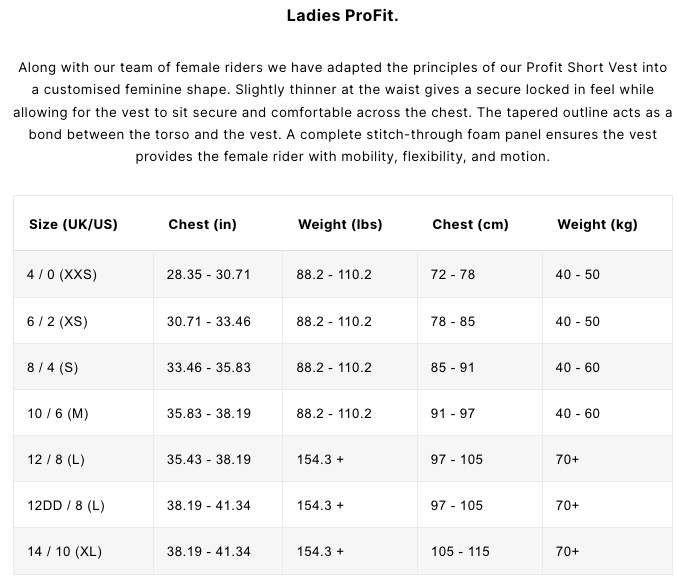 Advice on Buying a Buoyancy Aid / Impact Vest or Life Jacket
Buoyancy Aids, or Personal Flotation Devices (PFD's) as they are often referred to, have come a long way in recent years and they are now light and comfortable to wear, attractive to look at, and do not restrict your movement in the way that many older models used to:-  Click Here To Read More 
Everything you need to know about our Shipping & Delivery Services
Your business is extremely important to us and if you're not happy then we're not happy. We are therefore fanatical about making sure that everything arrives with you in perfect condition and in good time.
Here is a summary of how we do things.
1) We aim to process and ship all orders on a daily basis if placed before 3pm Monday to Friday, Sadly we are not able to ship orders at weekends or Bank Holidays (we like to get out on the water sometimes too). If you place your order after 3pm then we will still endeavour to process and ship it on the same day but this may not always be possible until the following working day.
2) For goods stored in one of our satellite warehouses, transhipment may sometimes cause a slight delay. This is rare though and we'll always notify you straight away if this will potentially affect all or part of your order.
3) For goods on re-order from our suppliers but not physically back in stock yet the words "Coming Soon" or similar will be displayed. These goods are available for pre-order only over the phone by calling +44 (0)1597 850114. If you pre-order something we will let you know the arrival date that we have been quoted by our suppliers, but we're afraid that these dates do sometimes change but we'll always try and keep you fully in the loop. By pre-ordering goods you are basically securing them for when they arrive with us. Pre-orders are processed and shipped on a "first come first served" basis i.e. processed in strict chronological order (the first to pre-order will be the first to receive their goods).
4) For very urgent orders please contact us on +44 (0)1597 850114 and we can potentially upgrade your delivery option to suit your requirements.
Shipping options - Depending on the value and weight of your shopping basket at checkout, the various shipping rate choices that would apply to your delivery address will be displayed on the checkout page once you've entered your delivery postcode. You will then be able to select your preferred choice.
European and Non-European country rates will be displayed when the "deliver to" country destination is entered.
United Kingdom postcode options include:-
Channel Islands Courier Delivery DHL Parcel - over 2kg

Channel Islands Royal Mail Track 24 Up to 2kg

Channel Islands Royal Mail Track 48 Up to 2kg

Northern Ireland DHL Parcels service over 2kg up to 10kg

Northern Ireland DHL Parcels service parcels over 1.4 metres long

Northern Ireland Royal Mail Track 48 Up to 2kg

Royal Mail 1st Class

Royal Mail 2nd Class

Royal Mail SD - Guaranteed Next Working Day before 1pm - Up to 2kg

Royal Mail SD - Guaranteed Saturday Service - Up to 2kg

Royal Mail Track 24 Up to 2kg

Royal Mail Track 48 free shipping service on orders over £60 up to 2kg

Royal Mail Track 48 for orders less than £60 and up to 2kg

Scottish Highlands/Islands DHL parcels service over 2kg up to 10kg

Scottish Highlands/Islands DHL Parcels service parcels over 1.4 metres long

Scottish Highlands/Islands Royal Mail Track 48 Up to 2kg

UK Mainland DHL Parcels Next Working Day for items over 1.4 metres long

UK Mainland DHL Parcels Service Next Working Day 2kg to 5kg

UK Mainland DHL Parcels Service Next Working Day over 5kg to 20kg
Please note that VAT is not charged on consignments to the Channel Islands